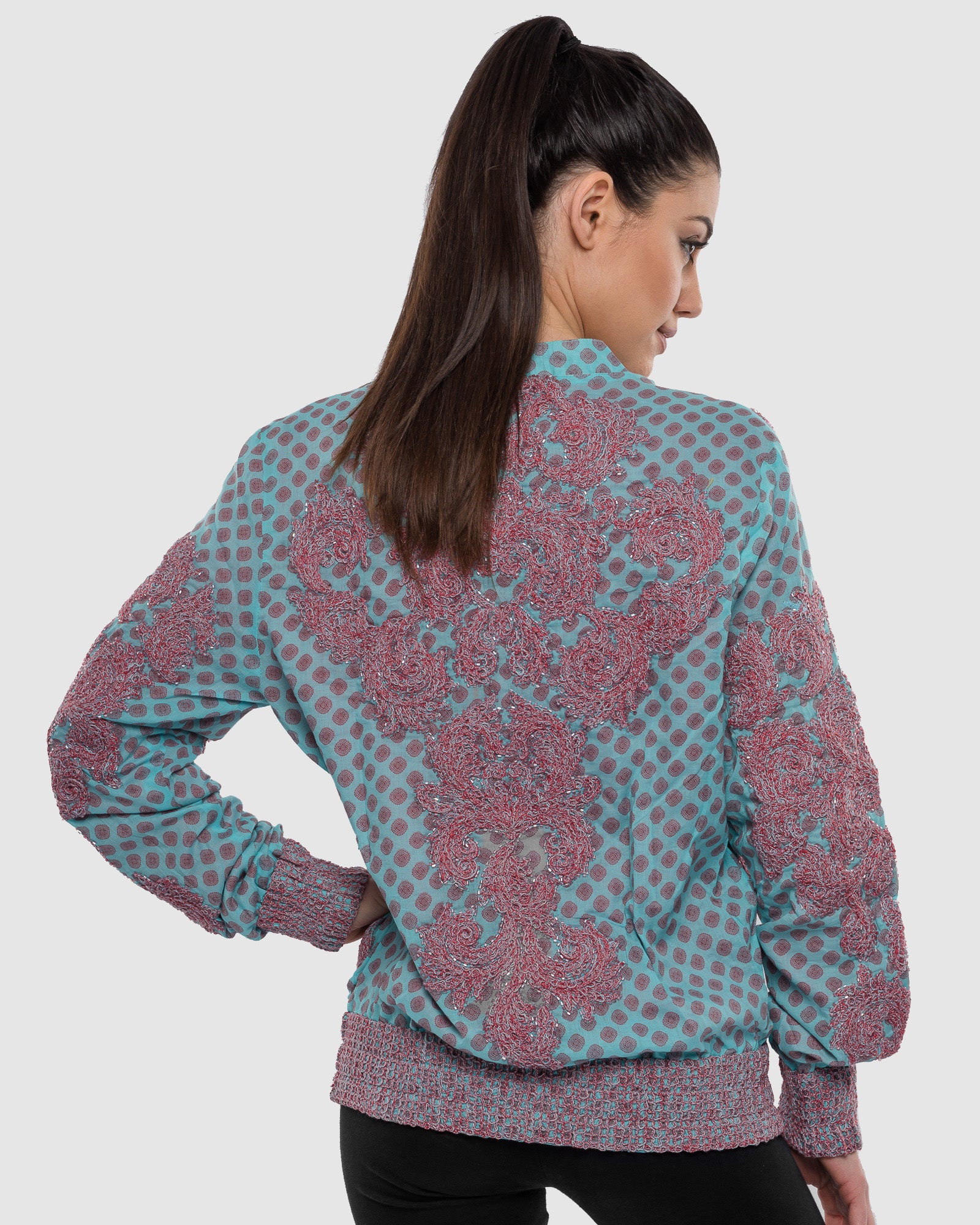 Printed Bomber Jacket with Embroidery and Hand-Beading
 Elevate your fashion game and make a statement with this exceptional bomber jacket that is guaranteed to make you stand out from the crowd. It's not just any ordinary jacket, but a true masterpiece, crafted from a custom-designed baroque printed fabric that exudes style and sophistication. The print is a work of art on its own, but the addition of delicate embroidery and hand-beading featuring beautiful bugle beads takes it to a whole new level of artistry. The meticulous placement of the beads atop the print further emphasises the stunning design, making it a perfect fit for both casual and formal styles.
The open mandarin collar of the jacket adds an elegant touch to the design, making it ideal for events where you want to impress. The ribbed cuffs and side pockets make it practical and versatile enough for everyday wear, whether you're out running errands or attending a lunch date with friends. The soft satin lining ensures maximum comfort, making it easy to wear for long hours, without compromising on style.
This bomber jacket is the perfect addition to your wardrobe and can be paired with a variety of different outfits to create a unique and stylish look. Whether you choose to wear it with jeans and a t-shirt or dress it up with a skirt and heels, you can be sure that this jacket will make you look and feel your best. Don't settle for ordinary when you can have something exceptional like this bomber jacket that will elevate your fashion game and take it to new heights.
MORE INFO:
Shell : 100% Cotton , Lining : 100% Polyester.
Our Model is 174cm tall and is wearing a size 8.
Designed in Australia. Ethically made in India.